Skip to the content
Querencia Retirement Community in Austin, TX
Live in harmony at Querencia at Barton Creek. Located on a 38-acre campus that provides residents with views of the wide-open Texas Hill Country, we have one of the most celebrated senior retirement communities in the Lone Star State. It's a place where older adults can feel comfortable in their own skin, find the support they need, and get the most out of every day. Residents come to Querencia at Barton Creek to live a more fulfilling lifestyle.
Services available at Querencia at Barton Creek in Austin, TX:
Querencia at Barton Creek in Austin, TX
2500 Barton Creek Blvd. Austin, TX 78735
Monday-Friday: 8:00 a.m. – 5:30 p.m.
Saturday-Sunday: By Appointment Only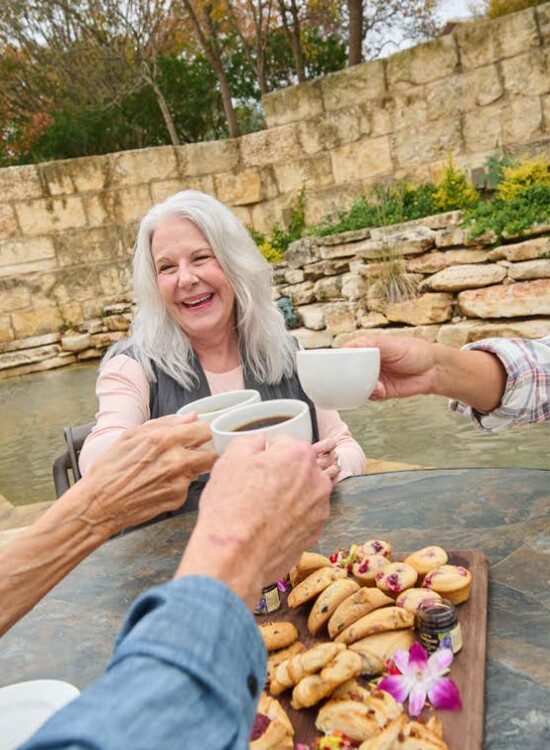 Retirement Living In the Lone Star State
How do you want to spend your retirement years? At Querencia at Barton Creek, the only person that can answer that question is you. Our community provides you with everything you could want or need. Socialize with your friends and neighbors in one of our common lounge areas, sit down for an elegant dinner in the Mesquite Dining Room, go for a walk on our nature trail, or utilize the multipurpose space in our Longhorn Room. People don't come to Querencia to sit still. They come to explore everything our community has to offer, and their lives are enriched by the opportunities that we provide for them.
High-Quality Senior Services In Austin
No one ever expects to need assisted living, skilled nursing, memory care, or rehabilitation services. But the truth is that no one knows what the future holds, so being prepared for an uncertain future allows you to live comfortably in the present. Querencia at Barton Creek offers a full continuum of health services so that you know your needs will be cared for both now and in the future. The health and well-being of our residents is our top priority, and our 5-star rating from the Centers for Medicare & Medicaid Services is a reflection of that commitment.